F14A/737 - Watch for F24 Camera and G22 Camera
Tests
| | |
| --- | --- |
| Period | 12 hours in each position |
| Position | Dial up and pendant up |
| Temperature | Normal |
| Permissable errors | 24 hours - 90 seconds |
Source: National Archives of Australia File A705, 150/4/1831, Instument Instruction 8-1 Vol II
These watches were attached to a camera back, so the time was recorded on the film when a reconnaissance photograph was taken. The F24 camera was used for vertical and fixed oblique photography and fitted to Bristol Beaufort, Lockheed Hudson and probably other photographic reconnaissance aircraft. I understand the G22 was a gun camera but I have no details.
The following images are of an British Air Ministry camera back, 14A/737, note the RAAF has added and "F" in front of the store code to read F14A/737. The RAAF F14A/737 would most probably be identical but without the Air Ministry marking.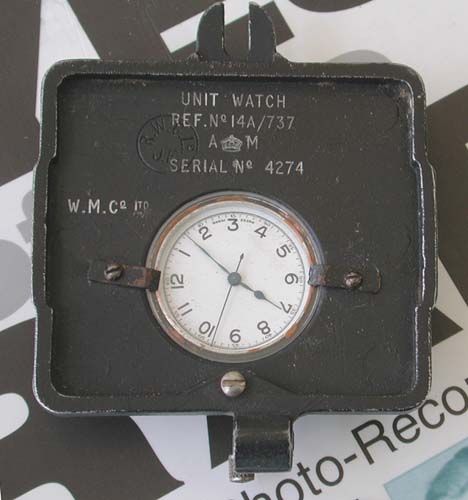 These were made by the Williamson Manufacturing Co. Ltd, whose markings can be seen on the left.
Dimensions are 65mm x 58mm on the square section and 79mm from the hinge (under the flexable crown stem) to the fastening piece.
The watch movement is a FHF 30 (Fabrique d'Horologerie de Fontainemelon).